Backyard Picnic Area
Our Backyard is now available for seating!

It is call ahead seating ONLY. We have ten very spaced out picnic tables available for booking any time during opening hours. 

We are operating essentially as a backyard take-out window. Upon arriving you will be greeted by signage directing you to the backyard where you will find our picnic area.

We have set up a tent with a NO CONTACT table. This is where you will pick up your food and drinks as they are prepared from inside the building. This step allows you and our staff to keep constant social distancing.

At this time, we do not offer table service, but we do see that change happening in the coming weeks as we all get used to the new guidelines. We are working on staffing and systems that keep you and our staff safe at all times.

You may have already pre-ordered if not it is a good time to start. Simply checkout our online ordering @ www.crowrest.com or you may verbalize your order at the takeout tent.

Our restrooms are available to the public through a screening process that requires a temperature check and a name and address from everyone in your party.

We are aware that this is not what everyone expects or really wants, but it is all that the guidelines allow us to do currently.

We will be continuing all delivery and curbside services as we have been.

For any further details call 401.635.8367

Thank you all so much for your support over these past 9 weeks!!! 

We will keep you all posted, as we are paying close attention to the state's direction. Hopefully, we see restrictions loosen up as the weeks go on. Be safe, I think we are all ready for some sunshine!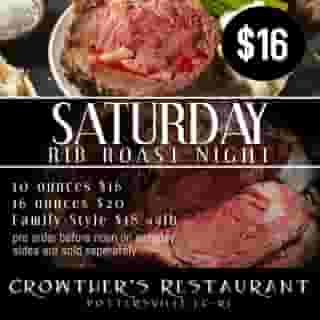 Crowther's Delivered for Dinner
Our family style meals are fast and easy to order. check out our online ordering page
Crowther's Brings Big Local Flavor to Little Compton, RI
You'll quickly discover that Crowther's Restaurant is a small-town hangout bursting with personality and creative culinary talent. Affectionately nicknamed the "The Crow" , Crowther's has been a Little Compton staple for more than 30 years. We pride ourselves on using local ingredients, and we'd love to serve you one of our trademark dishes.

We're more than just a bar and we're more than just a seafood restaurant. We're an all-American restaurant with a commitment to excellent service and cuisine. You'll see what we mean when you visit our Little Compton, RI location. Come by Today!